"Dirt Cup Delight" Glow-in-the-Dark Screenprint Poster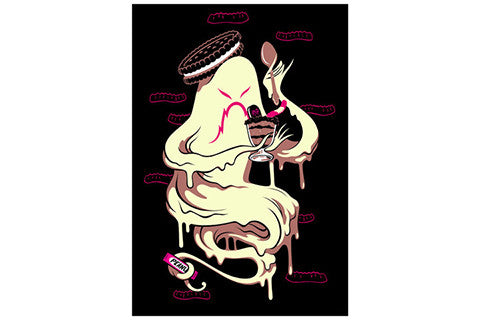 What would a grumpy ghost want for dessert? A dirt cup graveyard of course!! Though he doesn't look to happy, I'm pretty sure he's enjoying it.
4-color hand-pulled screenprint poster, featuring spots of brightly-glowing phosphorescent ink, as well as neon pink gummy worms and treats. The brown ink is so reminiscent of chocolate pudding, you'll want to lick it. And the super-flat black is made from a special mix of several colors, the printer's secret recipe. It glows so brilliantly (as pictured, taken with an iphone5 camera) - it's almost mesmerizing!
Poster is 14" x 22", signed and numbered in a limited edition of 20. Comes wrapped in plastic and rolled in a poster tube for shipping.
Local orders wishing to keep their print flat may contact me for details. Framing available for an extra $75.
---
More from this collection